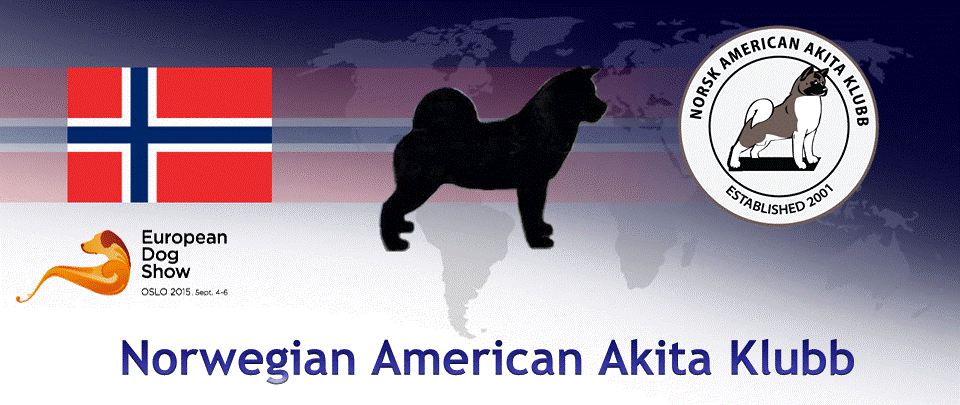 ---
Norwegian American Akita Special show 2015/ EDS 2015- Rasespesialen

Norwegian American Akita Club invites to breed special show Saturday 5.september 2015, same weekend and place as European Dogshow 2015, Oslo.
Judge: Rebecca Kestle, USA
Entry Fee:
NOK. 590,-/400,- (postponed add nok 100,-)
Entry deadline:  Electronic: 01.08.2015. Postponed 03.08.2015

How do you enter your dog to a show?
Entering your dog to the Show is swift and easy. The best way to enter a show is to create a user account at Norwegain Kennel Club webpage and do the entering and payment online.You can create a user account and enter shows via "My Page in English".  Payment via VISA/Mastercard. Online entry description «How to enter» www.nkk.no .
Manual entry: NAAK v/ Linn Hanssen. Trondheim, Norway email: post@american-akita.no. Tel. 0047 95157044. Bank account: 1503.57.63640
Registration is financially binding. For the third dog with the same registered owner is ½ fee (not applicable puppy and veteran). NB! Payments for manually entered dogs must be labeled with the dog's full name and reg.number.
Get direction: by clicking MAP
Dog friendly hotels
There are several dog friendly hotels located in close approximity to Norway Trade Fairs. To book hotels please visit this online hotel search. http://www.proviso.no/services/dog-show/
Changes towards event may occur
---
European Dog Show 6.september 2015
CAC and CACIB
group 5, american akita
Judge: Juan Carlos Vasconsellos, Paraguay
Entry: http://www.europeandogshow2015.com/